Article By Genevieve Wheeler And Lydia Wang. Updated: June 2021, Originally Published: April 24, 2018
~ To say I'm observant on dates is a major understatement. I can't help but analyze every one of my date's actions and mannerisms: his drink choice, word choice, the way he keeps bouncing his right leg or touching his bottom lip. And if you treat date nights with the same Sherlock Holmes mentality that I do, you're probably wondering what your partner's body language during sex actually reveals about their feelings in that moment. Like, what does it mean when you find yourself kissing during sex? What if your partner kisses or caresses your feet? Your body language in bed together can truly speak volumes.
Just last week, my friend told me that a guy shoved multiple fingers into her mouth while they were making out. Like, making a dinosaur claw and just sticking his hand in her mouth. Needless to say, I was perplexed."What does that even mean?" she asked. "Is it like, 'Mmm, yes, I'm so into this, I want your tongue on my hand?' Or, like, 'I need to get away from your mouth for a second, but here, make out with my pointer and middle fingers?'"
I had no answers, only more questions. Enter body language experts Tonya Reiman and Patti Wood. "Fingers in the mouth are a clear representation of several things," Reiman explains. "[It] is often used as a fantasy tool — one in which the individual who puts their fingers in the mouth of their partner is experiencing an oral fantasy of their own. Secondarily, it is used as a 'taste test.' One person puts their fingers in their partner as a way to imagine the other potentially masturbating and tasting themselves in the process." Huh, who knew?
As it turns out, lots of other typical maneuvers and mannerisms — and some not-so-typical physical cues — can indicate what your partner or hookup is really thinking. Here's a look at what someone's body language in bed says about their feelings during sex, from feisty nips and nibbles to gentle neck kisses.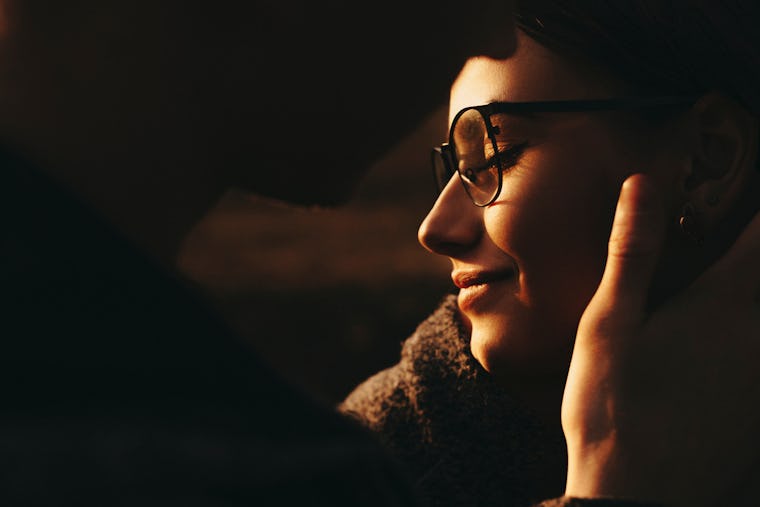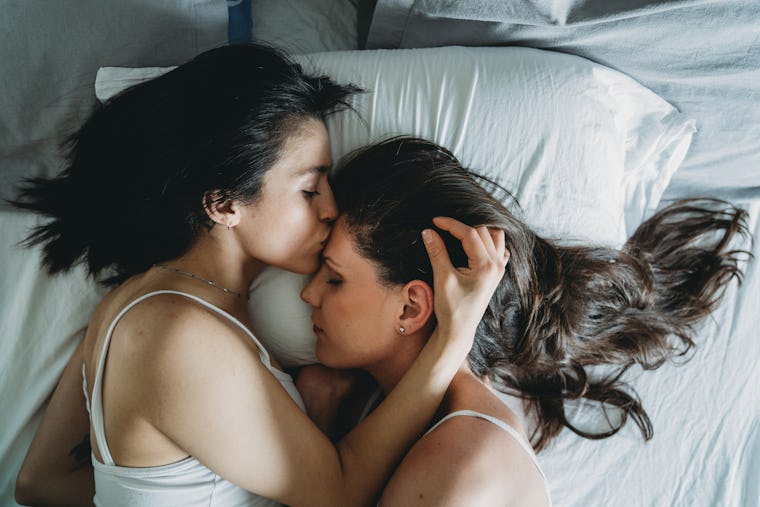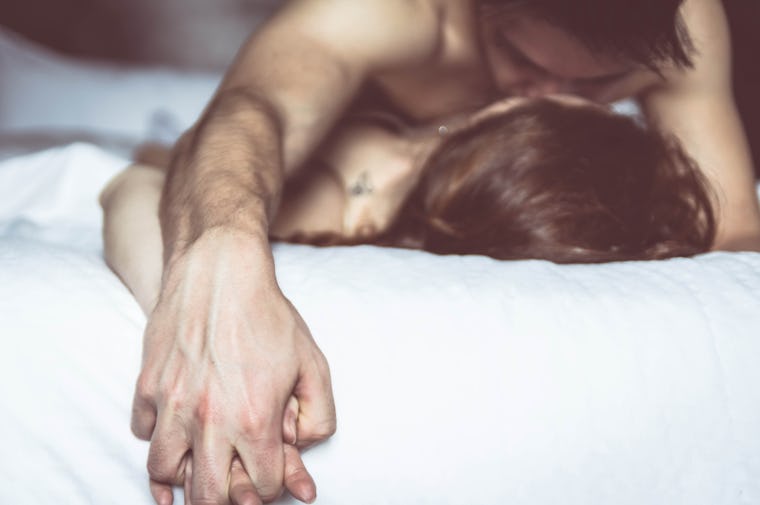 Experts cited:
Tonya Reiman, nonverbal communication specialist
Patti Wood, body language expert and author of Snap: Making the Most of First Impressions, Body Language, and Charisma
A version of this article originally appeared here on elitedaily.com