Article By Emma Nolan
~ DECEMBER 2021 ~
Jennifer Lopez has come to Ben Affleck's defense after rumors circulated that the singer was angry with her beau over comments he made about his previous marriage last week.
"This story is simply not true," Lopez told People about rumors of her anger. "It is not how I feel."
The Gigli co-stars are currently enjoying their rekindled romance, having reunited earlier this year after they were engaged almost 20 years ago.
The romance this time around has captured intense public interest and attention just as it did in the early 2000s.
However, the Batman star received backlash last week for comments he made about his marriage to Jennifer Garner and linking their time together to his drinking problem.
"That was part of why I started drinking alcohol, I was trapped," Affleck said in an interview with Howard Stern.
"I was like, 'I can't leave because of my kids, but I am not happy. What do I do?' What I did was drink a bottle of scotch on the couch, which turned out not to be the solution."
Garner and Affleck—co-stars in Daredevil and Pearl Harbor—married in 2005 and share three children together. They announced their separation in 2015 and their divorce was finalized in 2018.
"The truth was, we took our time, we made a decision, we grew apart. We had a marriage that did not work. This happens," Affleck said. "It is somebody I love and respect, but to whom I should not be married any longer."
These comments did not go down well with fans and Affleck with heavily criticized on social media.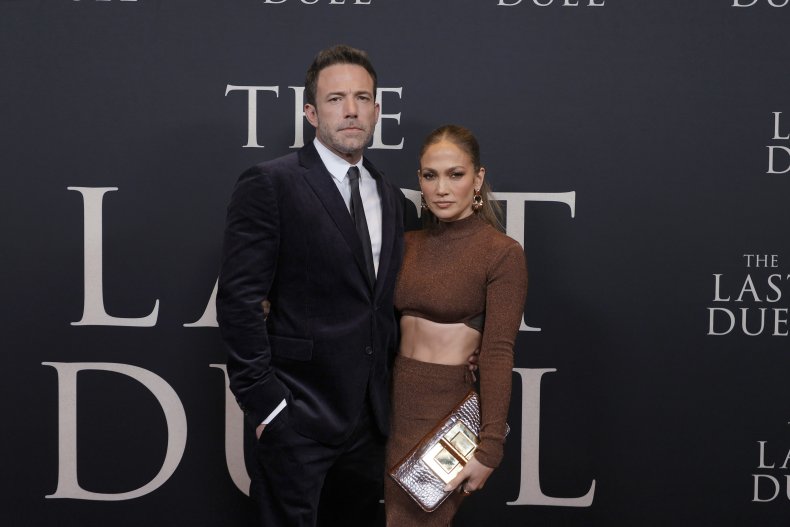 ---
Addressing the situation, Lopez praised her boyfriend and defended him to the press.
"I couldn't have more respect for Ben as a father, a co-parent, and a person," she said.
Affleck himself backtracked after controversy erupted and said he did not intend to put Garner in a negative light.
"I'd gone on and said how much we respect each other and cared about each other and cared about our kids and put them first," he told Jimmy Kimmel, saying that the reaction "just made me out to be the worst, most insensitive stupid, awful guy."
Clarifying that he is not the insensitive person portrayed in the aftermath of the Stern interview, Affleck said: "I don't believe that. It's the exact opposite of who I am, what I believe."
In the Stern interview, Affleck praised Garner as a good mother, despite later getting in trouble for his comments about being trapped.
"Did we have moments of tension? Did we have disagreements over the custody? Was stuff difficult for us? Did we get angry? Yes," he admitted. "But fundamentally it was always underpinned with respect. I knew she was a good mom.
"I hope that she knew that I was a good dad. I was. I had to get sober, I knew that too and I acknowledged that. I said, 'You're right. I've got to quit drinking.'"
A version of this article originally appeared here on newsweek.com