~ September 2021 ~ When I told my husband of 15 years I wanted to separate, we were in his car. He sped so fast that I thought he was going to kill us both. It was one of the things he used to do to scare me. At that point, I felt so numb that I probably wouldn't have minded; I had no energy left to tell him to stop.
A year and a half before, I'd walked in on him shagging the next-door neighbour in our family home. It had been going on for a year and I hadn't had the slightest inkling. I still can't fathom how he had the time. We worked together and lived in each other's pockets. To my knowledge, he was a caring and wonderful husband, I thought we had a great marriage. It broke me.
We stayed together for 18 months but everything changed. He got angry and depressed; he was scary. He started to self-harm and took time off work. I'd get home from a 12-hour shift as a nurse to a bathroom that needed bleaching. When I started wanting to hurt myself too, I realised I needed to take better care of myself and our daughters.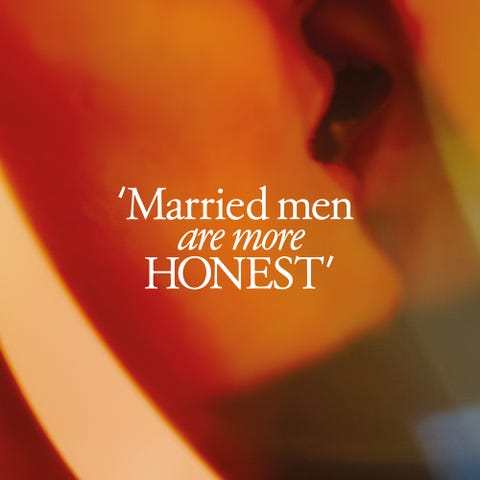 Image: Zoya Kaleeva
Dating was one of the first things that made me feel normal again, but one year on and I was exhausted. Swapping numbers on all the usual apps always ended in misery or dick pics. I was ready to give up on men entirely when a pop-up ad for the dating website Ashley Maddison caught my attention. Aimed at people in marriages and relationships who are looking to cheat, its slogan reads 'Life is short. Have an affair.' I was disgusted, but also curious. I made a profile to see what kind of men were stooping so low, though I'm sure some part of me thought it could shed some light on the collapse of my marriage. The matches flooded in, more so than I was used to, and it felt… powerful. I was perversely turned on by every interaction and before long, I was too caught up in it to stop.
'Life is short. Have an affair'
Most of the profiles say they are married and not looking to change this; they aren't looking to destroy their marriages and leave their wives. Lots of men just want someone to talk to. In the beginning, I might've spoken to 10 different men in a week, it was comforting to have someone to text, multiple people checking in on my day. Right now, I'm seeing two men and I'm satisfied. One is the perfect sex and the other is the perfect emotions, I get the best of both worlds.
I don't spend my days nagging at someone or picking up dirty underwear. I'm skipping all the relationship drudgery to go straight to the fun, exciting times. We go to the theatre and dine out on fancy meals, we stay in five-star hotels, we have sex that makes me feel alive and dangerous. I own a house, a car and I'm financially stable, I don't need a boyfriend to complete me or pay for me. I want minimal strings attached and I get it.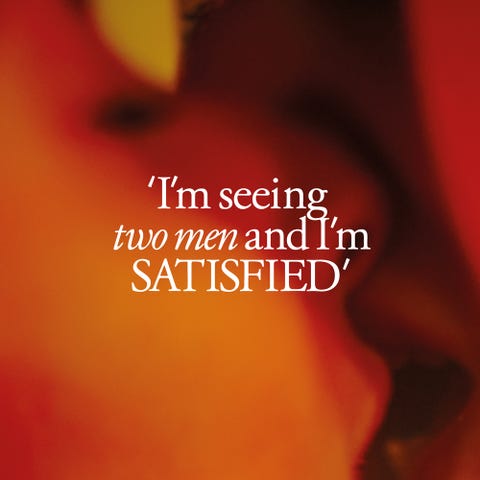 Image: Zoya Kaleeva
On top of that, married men are more honest. You know exactly what you're getting with them, unlike the single ones who make false promises to cover up the fact that all they really want is sex. I guess, dating married men is my safety blanket. It protects me from getting hurt and fully putting myself out there. It feels powerful to be in control of the cheating, instead of being at its mercy.
I'm aware of how twisted that is. At times it makes me feel so sick that I consider stopping. I certainly don't feel proud that I'm doing exactly what tore my life apart to someone else, but after you've been scorned yourself, any man feels fair game. And I do have some respect. I never step foot inside their family home, and I would never ask them to leave their wife. This isn't about love. I'm taking back control; I'm having my own fun.
Obviously, I don't tell anyone close to me about this part of my life. Only one friend is aware, mainly for safety reasons, and though she doesn't approve, she hasn't disowned me. My other friends surely would and might even see me as a threat. If my eldest daughter found out, I know she'd never talk to me again.
'I'm taking back control; I'm having my own fun'
I know this life is holding me back from finding someone long-term, but I don't care. I refuse to search for a relationship and get let down again and again and again. For now, a part-time relationship is all I can handle. My ex-husband went back to his other woman two months after we divorced. He's been living carefree and paying zero child support, while I've been suffering. Cheating destroyed life, but in my own weird way, I'm reclaiming it.
A version of this article originally appeared here on elle.com