~ August, 2021 ~ Sick of swiping left or right? You're not alone. As dating through apps and online platforms like Match.com continues to become the norm, people across the globe have embraced searching for potential matches from the comfort of their couches. But others are tired of relying on selecting potential mates from overedited profile pictures. Daters are complaining that people show up for in-person dates not looking like their photos, are flaky due to the number of prospects an app like Bumble can provide, and may only be interested in casual flings versus long-term relationships.
So, if you're ready to swear off virtual dating, take note. Even though it may not feel like it, especially in a pandemic-era world, experts say it is entirely possible to still meet people face-to-face. And though it may seem like everyone you know is meeting their partners online, that's not necessarily the case.
"Statistically speaking, the number of successful people meeting someone special on dating apps is very similar to those meeting someone on their own," says Amber Kelleher-Andrews, a relationship expert and the CEO of Kelleher International. "In fact, it is surprisingly close, with 54 percent saying they met a significant other on a dating app."
The more people you expose yourself to with common interests, and the more often you see them, the better.
Kelleher-Andrews explains that while dating apps like Tinder have doubled their revenues since 2015, she and her matchmaking team have been seeing a push for the return of in-person dating as of late. "It feels like we have finally hit a tipping point, and users themselves are getting tired of these hookup sites," she says. "Not to mention they take tremendous effort to keep up with." And after a year of lockdowns and social distancing, people are jumping at the chance to get out and attend parties and barbecues and grab dinners out on the town, making it the perfect time to turn back your attention to mingling with singles in real life.
Here are some tips on how to find love outside of dating apps — in a very digital dating world.
---
Ditch the "I'm undatable" attitude
If you have "failed" on a dating app, don't take this as a sign that you have failed in finding love, as, statistically, not finding love on an app can be a common outcome. "It is so common to be frustrated in not finding love online that I personally feel those that have met their significant love on a dating app got lucky," Kelleher-Andrews says. Tammy Shaklee, founder of the gay and lesbian matchmaking service H4M, says to look at online dating this way: "The apps may work for half the population of singles, and you are simply in the other half." And celebrity matchmaker Bonnie Winston reminds us that many people on apps aren't always truthful about their status and may be married, in a relationship, or simply looking for swipes in order to boost their ego. "In my experience, after speaking with hundreds of people who tried dating apps, for every 20 swipes, one might be a match; therefore, it seems like 19 people are rejecting you," she says. "You're not a failure; it's the algorithm that is simply not in your favor."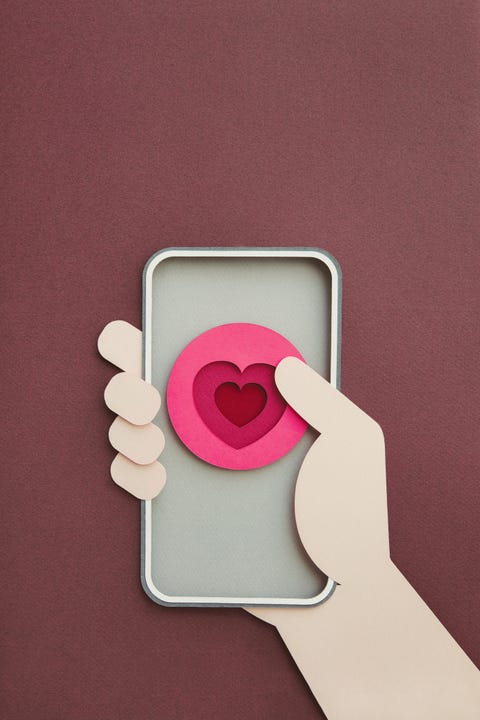 If you decide to quit the dating apps, it's important to know that you didn't fail.
Eugene MymrinGetty Images
Let a professional do the work for you
"Dating apps are an option, not a requirement," explains Shaklee. "They can supplement your search, or they can steer you towards volumes of singles with which you have absolutely nothing in common." When leaving the apps, she suggests making a list of things that were missing in your search. Ask yourself what qualities and values you are truly seeking in a compatible single that would make for a sustainable long-term relationship. You can take this list to a certified matchmaker and tell them the particulars of what you are looking for in a compatible partner. "Outsource your search, and let a professional comb through your options and introduce you to someone seeking what you are seeking," Shaklee suggests.
Put yourself out there — but only in authentic ways
You can't meet someone in person unless you put yourself out there. But make sure that you aren't just flocking to where you think you may find eligible singles. Choose places and experiences that align with your interests. "Spend time outside of your home doing things that make you happy," says Monica Berg, the author of Rethink Love and co-host of the Spiritually Hungry Podcast. "Don't go to a club unless you want to dance. Don't sit in a coffee shop for four hours unless you really like their scones," she warns. Berg recommends focusing on exploring your interests and making yourself happy, and says that eventually that joy will attract the right someone.
Network
"Cast a net through your friends, family, and others in your life," says Erica Cramer, a licensed clinical social worker with Cobb Psychotherapy in New York City. She suggests "telling everyone and anyone you know that you're single and ready to mingle." A blind date may feel risky, but having friends introducing you to a match, says Kelleher-Andrews, is very common and can make for a successful connector. "Friends work well for introductions because they know you. However, it is important that you share with them your standards and requirements so it's not a mismatch," she says. And expanding your social group is a great way to come into contact with new people. With the pandemic restrictions easing, Berg suggests planning group outings and dinner parties. "Encourage your friends to bring people you've never met," she says. "The broader your social network, the greater your chances of making a connection."
Volunteer
Giving back is good for the soul — and you never know who you'll be volunteering next to. "Volunteer one time at your area's botanical gardens, wildflower center or sculpture gardens, or animal-rescue center," suggests Shaklee. "Find your fit for giving back, and you'll meet like-minded singles also there." Search for local volunteering opportunities at VolunteerMatch and Idealist.org, and sign up for everything from sorting food at a local food bank to cleaning up an area beach or mentoring a child.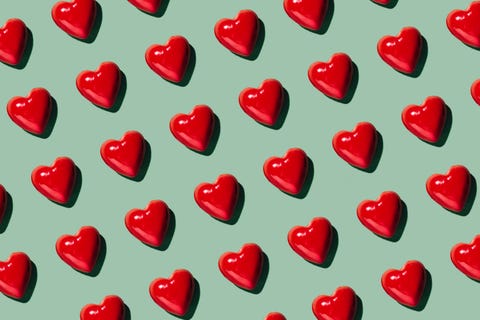 Consider different ways to interact with new people — like volunteering or networking.
Emilija ManevskaGetty Images
Work an angle
Cramer suggests looking for your potential match amongst people with common interests. "Join a co-ed softball team, club, or any group of people you'd normally enjoy being around — and it's a great way to add new potential dating candidates into your mix," she says. "Love craft beer and fresh air? Look for a kickball team. Avid hiker? There's a club for that. Bookworm? Join some book clubs and start to visit some of the best small-business shops." The more people you expose yourself to with common interests, and the more often you see them, the better. According to Cramer, when you establish meaningful connections with like-minded people, you're opening up your chances at love. "Dating is a numbers game, but interests spark the flame; the possibilities are endless here."
Get chatty
Engage in conversation with new people even if you're out of practice. "Connecting takes effort, in 2D or 3D," says Cramer. "You have to be willing to make the effort to speak to people." She challenges clients to talk to one new person a day. "It doesn't have to be a prospective match, but they could know someone, and once you get yourself talking, it's a great exercise in learning to ask the right questions and when to be a great listener," she says. "Who knows? That guy you chatted up in the grocer about the best broccolini in Midtown loved your conversation so much, they may offer to fix you up with their daughter, the chef." These conversations, says Cramer, aren't for the purpose of finding your soul mate; they can broaden your horizons and sharpen those skills for connecting.
Attend local singles events
Search for local singles mixers in your area and try your hand at things like speed dating. Even if it sounds cheesy, you very well may connect with another person who attempted it "just to see who showed up" as well. Dan Kras recently founded an Austin-based dating startup called Mixmosa to bring singles together at places like cocktail bars and comedy clubs. "One guest said that Mixmosa was a 'refreshing change of pace from the brainless swiping on mainstream apps' and that the event was like 'swiping left and right in real life — with no pressure,' shares Kras, who is still very much a believer that people can find love away from a screen.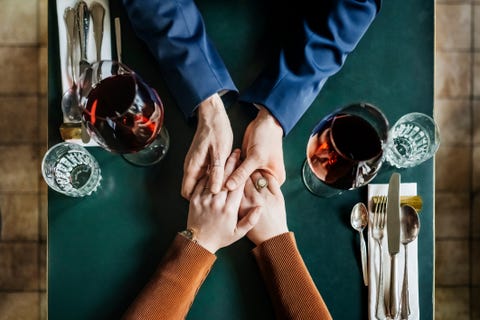 Remember to signal that you're potentially interested, like with eye contact or smiling.
Tom Werner/ Getty Images
Put out some signals
The most important thing to do when you encounter someone you may be interested in is to "make eye contact and smile," says Treva Brandon Scharf, a dating coach with Done Being Single. "That's your icebreaker and calling card," she explains. Scharf says to consider anywhere that you go in life an opportunity to meet someone — gas stations, dry cleaners, banks, grocery stores — but warns that if you don't make any effort, then potential matches can pass you by. "Eye contact and a smile signal that you're open and approachable," she says.
Keep one foot in
If you're serious about finding love, you can stay on a dating app and attempt to meet people in person – there's no rule that says otherwise. And Berg says remaining in the online game, but not putting all your eggs in just one basket, can be empowering. "Imagine there was something that you very much needed and desired, and imagine there were four paths to getting it. Then imagine you decided that you were only going to use one path, effectively quartering your chances of finding what you want. Why would you decide to give yourself fewer chances of success?" she asks. While dating apps might not be your ideal way to meet someone, keeping them in the mix can be another potential road to your desired outcome.
---
Nicole is a freelance writer published in The New York Times, AARP, Woman's Day, Parade, Men's Journal, Wired, Emmy Magazine, and more. Keep up with her adventures on Twitter at @nicolepajer.

A version of this article originally appeared here on Shondaland.com