Article By Charlotte Stokely
~ August, 2021 ~ aI grew up in Utah, I'm a mountain girl. I loved playing in creeks, camping and building tree houses but I also loved to sing and dance and have an audience. I was always the funny, loud, silly one. I loved fashion and modelling. I'd wear leather boots with a matching leather jacket and leather beret, but I'm only 5ft 4″, so I wasn't able to work in high fashion.
I was a straight A student and started college at 15. I earned a four year scholarship. I graduated high school but I didn't finish my scholarship because I wanted to have fun as a teenager. When I was 18, I was working at a strip club and I was asked by a guy who I knew through a friend of mine if I wanted to shoot a porn scene. He told me I could come over on my lunch break to shoot the scene, and I'd be paid cash. I just thought: sure, let's do it. I went on my lunch break, it was fun and I was paid $1,000 cash. Back in the day, that covered my entire month's rent. I didn't think about it again until a week later when it came out on one of the biggest adult porn websites at the time. I didn't watch porn so I had no idea.
I decided very quickly I wanted to build a career in the adult industry. I've always been open and comfortable with my sexuality, so I was never embarrassed to be naked and everyone I worked with said I was naturally good. I could act, I was aware of where the camera was and I had a good attitude. So, I asked if there was a way I could get an agent. Work kept coming so I moved to Los Angeles and never looked back. Now, it's 17 years later and I've made thousands of porn movies. I am girl-girl only, I don't work with men now. I love women and I have always loved women.
One of the things I love about my job is that I always get to be a different person. One movie I'm really proud of is Confessions of a Sinful Nun. I played a nun, which was a lot of fun. And I played Batwoman in the X-rated version of Justice League.
That was challenging. It was filmed in the middle of summer and you don't have AC turned on while filming because it's too loud. So I was in a very hot warehouse, wearing a long wig, a mask and a neck-to-toe latex catsuit, a cape made of the same material and knee high stiletto boots. The cat suit was so tight that I couldn't bend over or sit down.
I remember that by 4.30am I had ripped the crotch of my suit, so I was bent over a bar stool while an elderly woman was trying to sew it up with a needle and thread.
When I first started in the industry I was told I had to lose weight and get a boob job and a tan. Everyone told me I wouldn't make it unless I did those things. I'm not tan, I didn't get a boob job and though I did lose weight, I stuck to my guns and I have conquered major milestones in this industry. I'm in the Adult Video News (AVN) Hall of Fame and I have also won 12 different Girl/Girl Performer of The Year awards. But I don't like to glamorise how much money I make, because I spend a lot of money to make a lot. The platforms I share content on take a percentage, I pay a lot of tax and I pay for my hair, nails, wardrobe and travel. So I don't want to give younger women an unrealistic idea that they're going to suddenly make hundreds of thousands of dollars a year.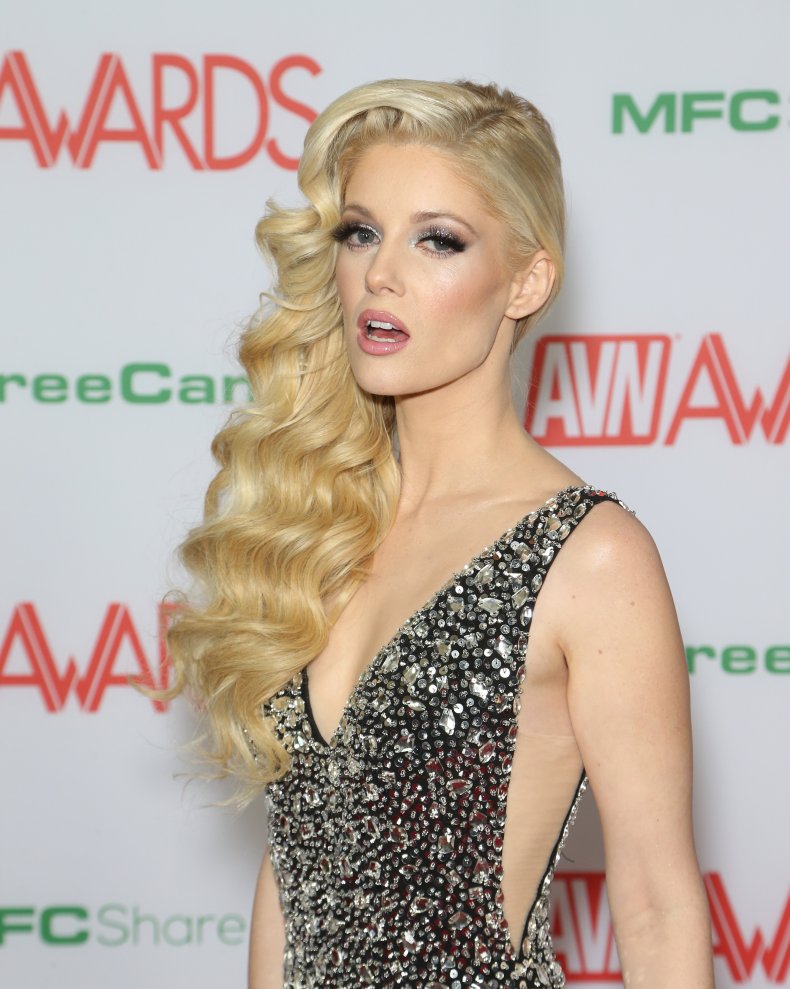 I also want people to know that there is a difference between porn sex and real life sex. When I'm having sex on camera, I'm performing. If something feels good, it probably doesn't look good on camera. It's all about keeping your hips very wide open, staying open to the camera and performing. There are real orgasms on set and I've had many, but it's 100 percent an acrobatic performance for the camera.
When I turn up to a porn set we talk about consent and boundaries before the scene starts. We'll go over what words can be used, what sexual acts can be performed. I might say, don't pull my hair. That is agreed and that agreement is signed before the scene starts. I am 100 percent in control of my boundaries. Porn is very strongly based on consent and boundaries now and the industry has improved a lot. But I've always spoken up for myself and if I'm on set and see someone try and push a boundary with someone else, I'll speak up for them too. I try to look out for others, especially the younger girls.
I feel like it's our responsibility as adult performers to create porn that is on the boundaries of healthy intimacy. That's one of my personal goals, I want to show real sex in porn. Because there is a gap in sexual education and it can be filled by porn; porn is not sex education. When you watch a porn where a guy delivers a pizza, a woman can't pay so she has anal sex with him? Well, those sex acts don't just happen. I'm trying to educate the fans and the public that this girl has known this scene is going to happen for three days and she's been training physically for that style of sex. Porn is a performance and boundaries and consent were established. The female performer has approved working with that man. It's not just, "oh, I can't pay, let's have this specific type of sex."
That's the part that concerns me and is one of the reasons why I became a sex educator. I want people to know there is a difference between porn sex and real sex. Thanks to social media platforms, fans can directly message porn stars, and I was getting a lot of sex education questions. I would answer with my wisdom and personal experience but I wanted there to be more validity and to know that I was correct, because people are paying attention to me. There is a serious lack of sex education in the U.S. It's not something that's openly taught in detail or communicated. So I went to school to become a certified sex educator. It was important to me, because without knowledge people can become ashamed or not know how to be true to themselves sexually or express their personal needs.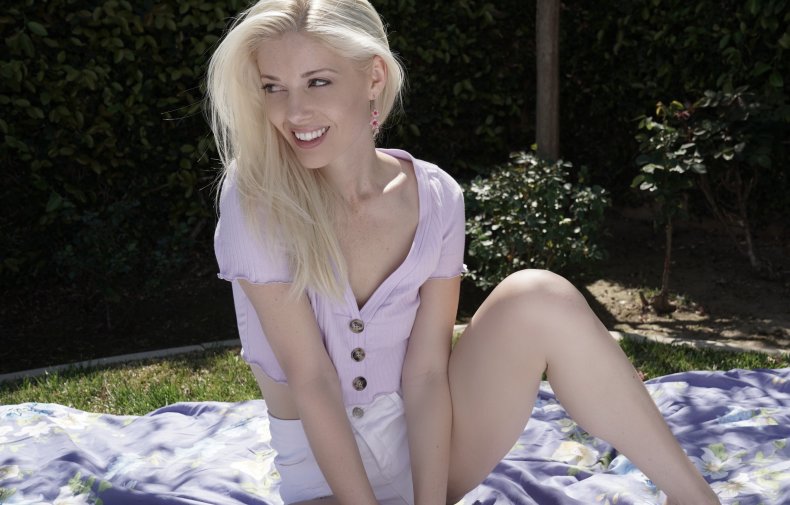 In 2020, I stood on an awards show stage and in an acceptance speech said, "If anyone in 2020 wants to book me for incest, rape or kidnapping porn, don't call me." Then I walked off stage, and the crowd went wild. It created a conversation. Earlier in my career I might not have said it publicly but I felt like I had nothing to lose. I also speak on panels for performers, where I discuss how to be a successful porn star while balancing your personal life.
I am actually engaged to another sex worker/performer. I am lesbian as a performer but I am engaged to a man who shoots heterosexual porn. We've been together for two and a half years and he's my best friend. Our secret to success is communication. If you can't be 100 percent yourself and say what you want to say it won't work. It's a judgement free zone. I don't feel jealous when he goes to work. When each of us comes home we talk about the scene, the highlights and low points and whether he got along with the girl. If he had a great time on set with her I suggest he asks her whether she would like to come over and shoot content for our OnlyFans and I'll shoot a scene with her too. We hire a professional cameraman and have contracts signed before anything is filmed. I love showing up to set for a porn movie and having a script, but with these newer platforms we are totally in control of what we say, do, wear, when we perform and who with.
So we communicate and my fiance never pushes me aside. I'm his number one. He'll always say, "porn sex is sex, but the best sex is when I'm at home with my girlfriend." He's very vocal about how much he loves me. He often gets asked if he'd ever leave me for a girl on set. He says that sex is sex but you can't replace a person. We're best friends and soul mates.
I am happier and healthier than I have ever been in my life. I've worked very hard to be where I am today. I'm always myself. I learned that the fans don't necessarily need to see a sexual performance, they want to get to know you. Being myself means I never get disoriented. I'm living my life, I know what I want and I'm doing it.
Charlotte Stokely is a adult film performer, certified sex educator and health coach. She supports The Cupcake Girls, a non-profit providing confidential support to those involved in the sex industry and those affected by domestic sex trafficking. Find out more at charlottestokely.com or follow her on Instagram @charlottestokely.
All views expressed in this article are the author's own. As told to Jenny Haward.
A version of this article originally appeared here on newsweek.com