Article By SARA SANTORA
~ April 2021 ~ A German police bomb squad called to investigate a suspected WWII bomb found in a Bavarian forest confirmed Tuesday that the bomb wasn't a bomb at all. Instead, it was just a harmless sex toy.
According to The Associated Press, the suspected hand grenade was discovered Monday by a jogger in a forest outside of Passau, Germany. Worried that the device was potentially dangerous, the jogger quickly notified the German bomb squad.
However, other materials found at the scene quickly led German officials to believe that the grenade-shaped item was not in fact a grenade at all.
As reported by local newspaper Passauer Neue Presse, via The NY Daily News, the jogger "came across the item in a plastic bag, which also contained two unused condoms, a USB cable and an empty tube of lubricant."
The condoms, the lubricant and a quick Google search all confirmed the bomb squad's suspicions: this was not a WWII grenade, just a rubber sex toy.
"There are actually sex toys in the form of hand grenades," said police on Tuesday. Keep this in mind the next time you come across something suspicious on your leisurely jog.
Of course, the question begs to be asked: how does a rubber sex toy get confused with a WWII hand grenade? Well, it's not as crazy as it sounds.
AP reports that to this day, forgotten or hidden munitions are still being discovered around Germany, 75 years after the war.
In December, for example, a German explosives expert successfully defused a 1,100-pound bomb in Frankfurt. The World War II-era bomb was discovered during construction, and as a result, the 13,000 residents were evacuated and all trains were forced to stop running through the area. In October, a World War II-era bomb exploded in Poland during an attempt to defuse the bomb. No one was hurt.
Thankfully, the jogger near Passau did not come face-to-face with a hand grenade and was, as a result, safe. Unfortunately for the owner of the sex toy, however, the grenade is either now in police custody or in a trash bin somewhere. Then again, a German forest may not be the best place to hide your grenade-shaped toys.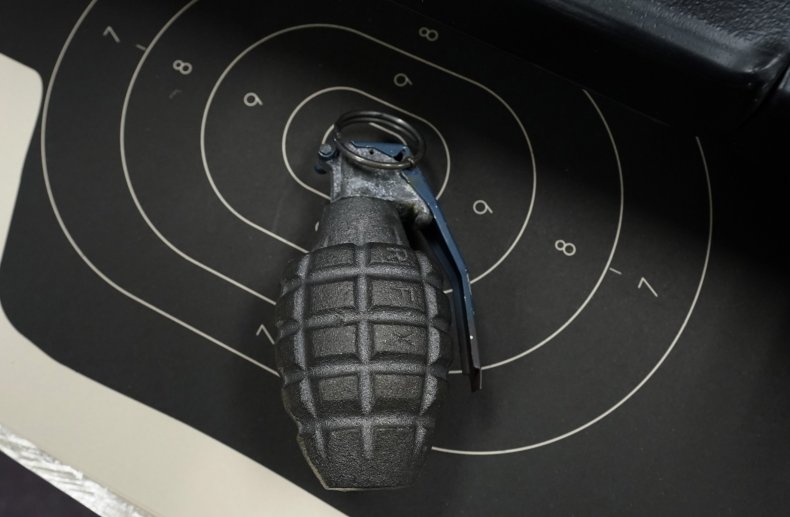 A version of this article originally appeared here on newsweek.com